Finance Update 2019
Each month the Finance Team at The Forge look at the figures of what's come in and what's gone out; using those facts they then seek to share with staff, elders & trustees what is happening within The Forge, in terms of its financial health. The team asks itself questions like – is income where we want it to be? Are costs being controlled? Are we carefully monitoring restricted income both in and then out again?
At the end of May 2019 the financial results for the year to date can be summarised: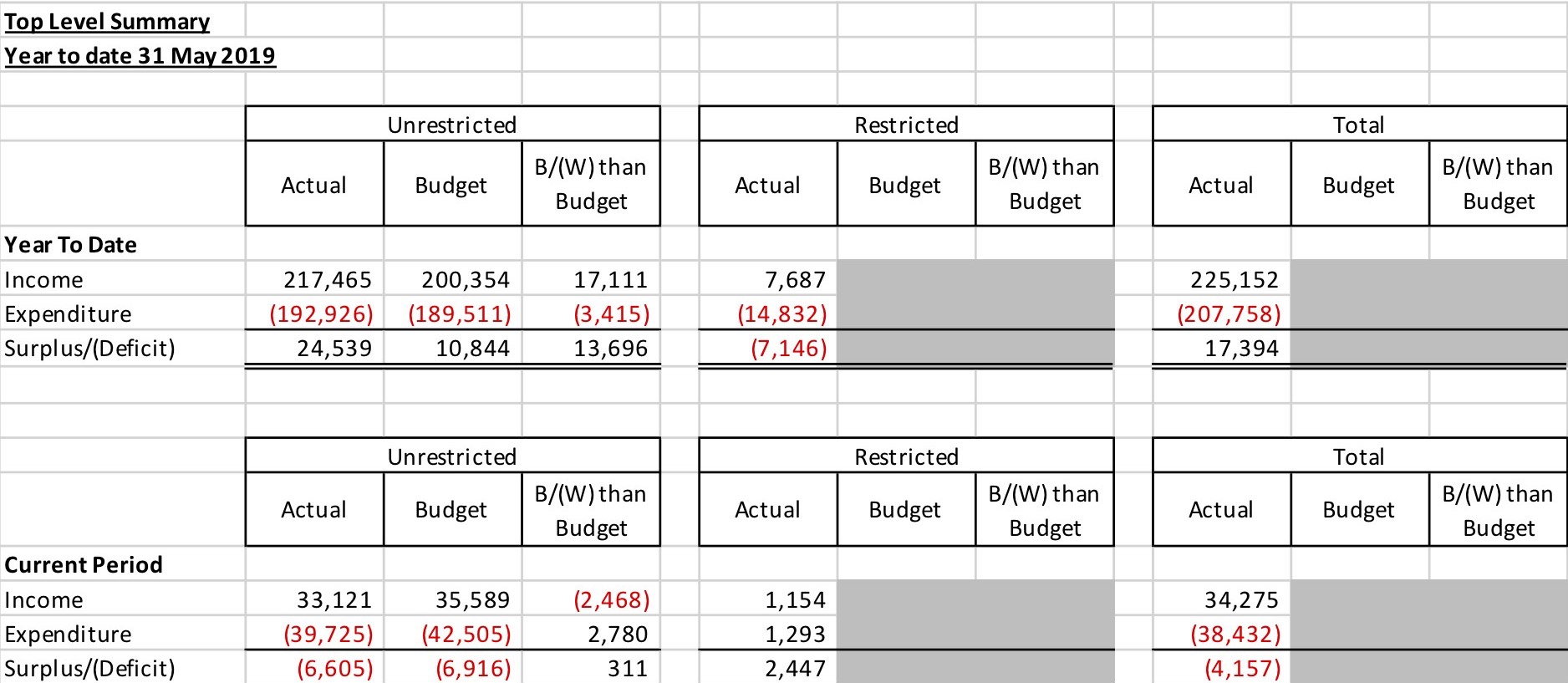 Overall, the surplus for the month of May was in line with budget and, consequently, the year to date position remains favourable against budget. However, this needs to be understood in the light of future trends and the completion of the re-budget continues to highlight some concerns.
INCOME
Gift Day
As discussed last month, the final position on Gift Day is that we received gifts and pledges worth £61K in this year, exceeding the target of £60K. About £25K of this is from increases to or new regular giving, and £36K from one-off gifts. This is a tremendous response and we are grateful for the generosity of those who support us financially.
Regular Giving
Regular giving was steady in May at £21,700. The budget for regular giving was £24,700. The shortfall is primarily due to a lack of growth in regular giving (other than from the Gift Day which is captured separately). The lack of growth affect our finances for the rest of the year.
EXPENDITURE
Personnel Costs (Actual: £22.7K; Budget: £24.9K). We further benefitted in May from the Employers' NIC allowance which was not budgeted.
Other costs (Actual: £39.7K; Budget: £42.5K). Key elements are…
An underspend on the Drive conference (it cost less than we expected, and we received specific donations to defray certain expenses).

An overspend on mission in the month which brings the year-to-date Mission spend

in line with the budget.

Office, Telephone and Utilities are all running a little over budget and this is under 

investigation.

Venue Hire is running ahead of budget as the original budget did not fully reflect the cost of non-Sunday venue hire (eg Theopraxis, Eden).
CASH FLOW
The lack of income growth, and the pressures on non-personnel costs mean we are expecting at best a neutral cash flow for 2019, and a year-end cash balance still below the minimum level set by the Directors. The Finance Team and the Directors are aware of this, and the staff leaders have already begun to look at how to address this.
If there is a specific question you would like to ask then please click here to email
© The Forge Community Church | Registered Charity No: 1101080