Finance Update 2019
Each month the Finance Team at The Forge look at the figures of what's come in and what's gone out; using those facts they then seek to share with staff, elders & trustees what is happening within The Forge, in terms of its financial health. The team asks itself questions like – is income where we want it to be? Are costs being controlled? Are we carefully monitoring restricted income both in and then out again?
Whilst the people of the Forge continue to be generous with their time and their money, those of you who read Steve's monthly updates will know that our finances continue to be under pressure.  Please pray for wisdom for the staff leaders, elders and directors as they wrestle with this and seek to match ambition and resource.  
In July the Directors also approved our statutory accounts, and the Trustees Annual Report and Accounts for 2018 are also available here.
At the end of August 2019 the financial results for the year to date can be summarised: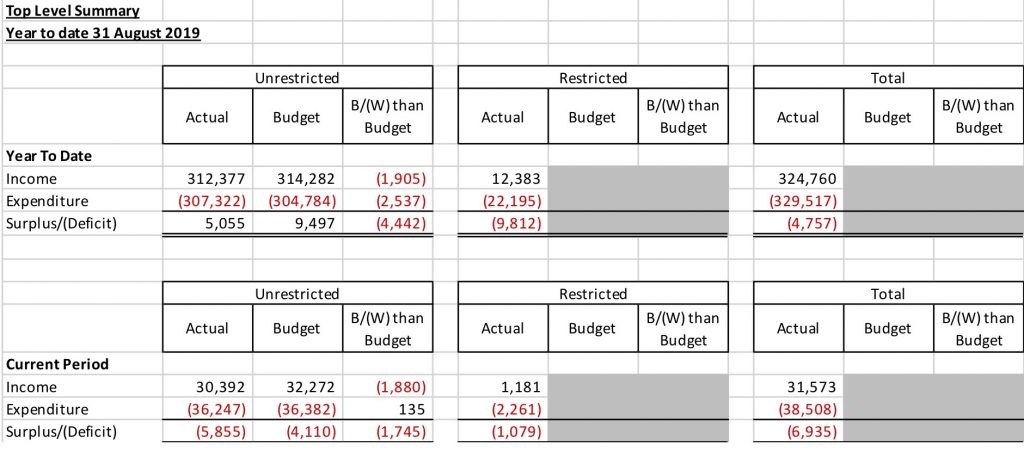 The Forge's surplus on unrestricted funds for the year to date at 31 August 2019 was £5,055. This is £4,442 worse than budget. In the month of August, the deficit was £5,855, £1,745 worse than budget.
Overall our regular income is down about 10% on this time last year. Whilst our staff costs are lower following the restructuring in 2018, other costs are higher, reflecting, for example, the growth of Forge Thurston and their move to larger premises to accommodate their Sunday services. The staff leadership, elders and directors are actively working on a plan to deliver financial stability, and appreciate your prayers for wisdom.
If there is a specific question you would like to ask then please click here to email
© The Forge Community Church | Registered Charity No: 1101080