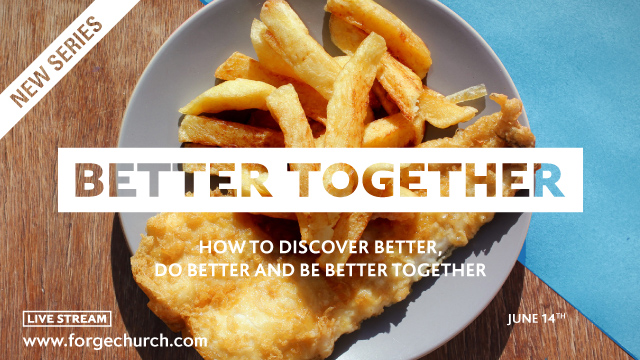 Better Together
Donuts and Coffee, Sea & Sand, Whiskey & Cigars, Ant & Dec, Mac & Cheese. Some things are just better… together!
And so are you. Right at the beginning of time after God spun the world into motion there was one thing and one thing only that was short of perfect goodness. Loneliness. During this series we seek to understand how we can discover better, do better and be better together!
VIEW SERIES
Sunday 14th June – Intimacy with God
If we want to build a strong community, the best place to start is with the person who came up with the concept of 'community' in the first place! The God of the universe determined that it was 'not good for man to be alone' – so this whole community thing was His idea. Maybe that all sounds a little far-fetched, or perhaps God just seems a million miles away? Together we're going to learn that God is closer than we think.
Sunday 21st June – Community with Insiders
Wouldn't life just be easier if everyone was more like you? It can definitely feel like that sometime, but it's our differences that (when properly connected) can build something better. There is power in collaboration and community. So how do we get past our differences? How can we do community with 'those people' who really aren't like us? Together we're going to explore….
Sunday 28th June – Influence with Outsiders
Jesus loved connecting with people that were nothing like Him, he was as comfortable interacting with the least and the lost as He was with the high and mighty. Jesus started a gathering which became an uprising and grew into the early church – and it has been expanding ever since. However, church in the UK has been on a steady path of decline in recent years. The Church stopped looking out & started only looking in… If we are going to be better together, something has to change.
© The Forge Community Church | Registered Charity No: 1101080