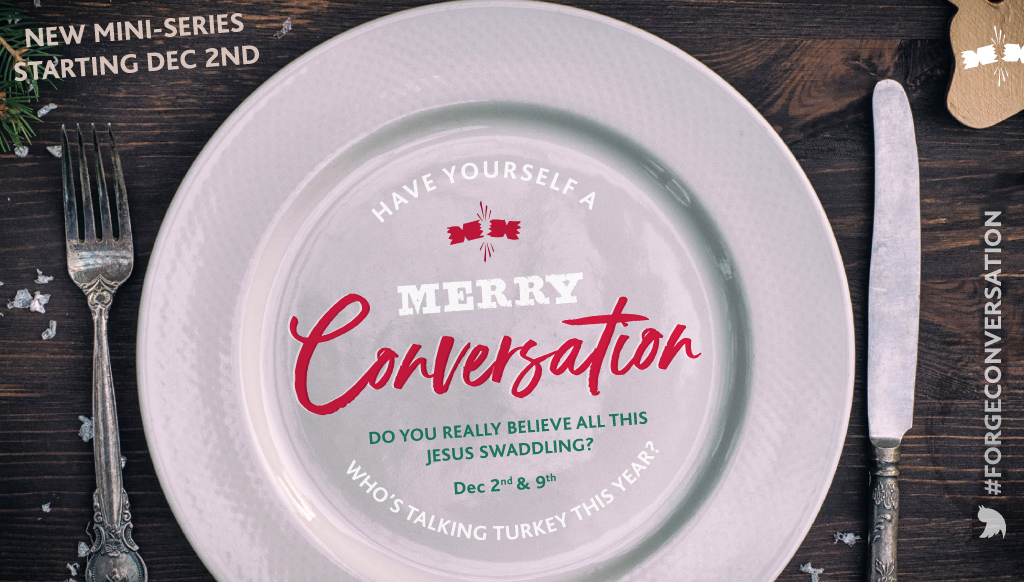 HAVE YOURSELF A MERRY CONVERSATION
'Tis the season for Christmas trees, family traditions and presents wrapped in shinny paper. But its also the season for endless traffic jams, sugar crazed kids, and those awkward family Christmas conversations over a the dinner table…
When are you going get married? Have you tried Slimming World? Did you get a real job yet? Who did you vote for? Whose hair is this in my gravy? 
Christmas conversations are a little more complicated than we'd care to admit… One of the most awkward conversations Christians can have over the Christmas holidays is the one about faith. Do you really believe all this baby-in-the-manager stuff? Aren't all Christians just weird? You expect people to believe in some old book?
Its time to 'have yourself a merry little conversation' about faith, life and church without feeling so awkward about it! This new Forge mini-series will help you make this years 'turkey-talk' a whole less tough…
VIEW SERIES
WEEK ONE – Do you really believe all this Jesus swaddling?
WEEK TWO – Do you really stake your life on an old book?

© The Forge Community Church | Registered Charity No: 1101080