Finance Update 2021
Each month the Finance Team at The Forge look at the figures of what's come in and what's gone out; using those facts they then seek to share with staff, elders & trustees what is happening within The Forge, in terms of its financial health. The team asks itself questions like – is income where we want it to be? Are costs being controlled? Are we carefully monitoring restricted income both in and then out again?
2020 was an unprecedented year! That's true in so many ways, and certainly when considering the church's financial position. In February we received a one-off gift of £50,000. In March we were locked down and the finances of many who call The Forge their home were knocked for six. A number of you had to let us know that you would have to stop or reduce your giving. Planned fundraising events were cancelled and a Gift Day suddenly felt inappropriate.
With less income, and less work to be done, the church was able to take advantage of the Government's furlough scheme to reduce its salary bill. Not gathering on Sundays reduced our costs for venue hire. Although there were new costs to equip ourselves better for to continue church online, overall, we were able to manage our costs well. So how did all that translate into figures?
For the full year 2020 we had budgeted for income of £444,000. We actually received £411,000, about 7.5% less than budget. Behind that though, if you eliminate the one-off gift, our routine income was £349,000. That's less than 80% of what we had planned. Every pound we receive is generously given by people and we are tremendously grateful for the faithfulness and generosity of those who have given.
Our budgeted expenditure was £421,000. The savings described above allowed us to reduce this to £323,000. Because our reserves were running low at towards the end of 2019, we budgeted in 2020 to make a surplus of £23,000 in order to build reserves to a healthier level. The actions we took to save costs meant that, without the one-off gift, we would have made a surplus of £26,000.
We have not yet spent any of the one-off gift. When restrictions lift and we are able to start meeting again in person we anticipate significant costs to enable that to happen. The gift provides a healthy reserve to draw on if we need to do that before our regular income recovers. The budget for 2021 is balanced, and we are continuing to manage costs carefully.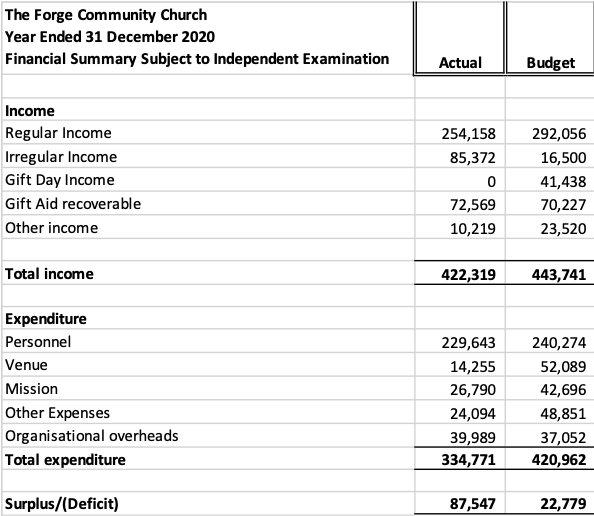 If you have any questions or observations, please click here to email.
© The Forge Community Church | Registered Charity No: 1101080